Master Cinematic Videos in 70 Minutes with my 5 Part Osmo Pocket Filming & Video-editing Course
Includes 15 Free Cinematic LUTs for color grading your

Osmo

Pocket footage ($21.99 Value for Free)

5 Part online video course teaching you how to film and edit cinematic videos using Adobe Premiere Pro
70 minutes of practical filming and video-editing tutorials viewed online as a five part video series
Step by step tutorials demonstrating both basic and advanced filming and video production techniques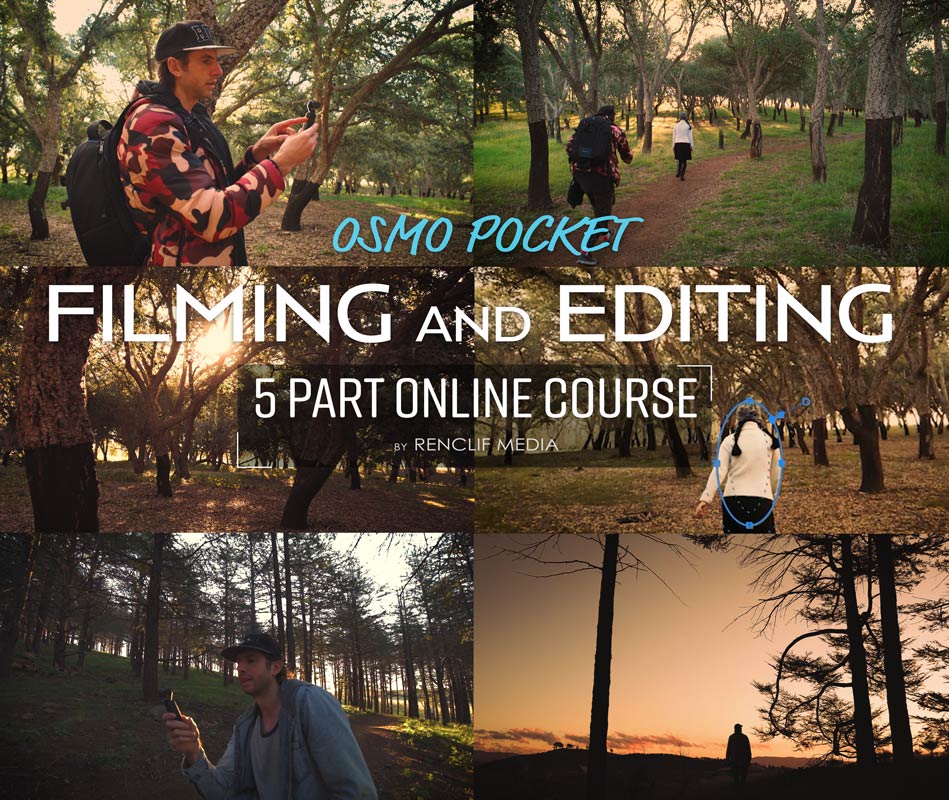 Introduction –

Osmo Pocket setup walkthrough

(also available on my Youtube channel)
I go through setting up your Dji Osmo Pocket to get the most out of your filming experience. Please note that your settings menu may vary slightly if you own the Dji Pocket 2.
Using Pro Mode I show you how to set the correct shutter speed, white balance and ISO for the best quality 4K footage. I also talk about how I use the various gimbal tilt modes.
Part 1 (Bonus) –

Cinematic Storytelling with your 

Osmo

Pocket

(Practical Tutorial)
How to tell a story through cinematography using simple and easy to understand filmmaking techniques

Learn how to film yourself using the most basic camera gear together with your Osmo Pocket

Using your surrounding environment to find interesting and creative compositions

Techniques for capturing beautiful, dynamic and moody lighting in a landscape setting

How to use camera angles and silhouette lighting to create visual interest with impact

Completing your 4K outdoor sequence the right way and telling a story in the process
Part 1 –

How to film a cinematic 4K sequence with your 

Osmo

 Pocket

(Practical Tutorial)
Filming

 at the best time of day (golden hour)

 

to 

capture dramatic and moody lighting

How to properly 

frame

 your shots 

with a variety of creative camera angles and compositional techniques

The correct way to 

focus your Osmo Pocket to 

easily 

achieve

 sharp 

in-focus 

footage

How

 to set 

the correct Shutter Speed, Exposure

, ISO

 and 

White Balance settings

Setting

 your White Balance manually to obtain accurate 

and consistent 

colo

r

 throughout your entire sequence

How to correctly expose your Osmo Pocket footage

using

 Cinelike-D 

flat 

colo

r

 

profile in preparation for 

colo

r

grading

How to film a model from different angles and capture a variety of shots to create a cinematic sequence

Using motion to link your sequences together and complete your story
Part 2 –

How to cut and edit your sequence to music using a fast and effective workflow in Adobe Premiere Pro CC
A quick 

start 

guide to 

my Osmo Pocket Cinelike-D

 video-editing workflow in Premiere Pro

How to get started with setting up your sequence for editing

Trimming and

editing

 your sequence in Premiere using the 

most useful 

editing tools and shortcut keys

How to choose the right 

licenced 

music 

to suit

 

the style and theme of 

your short film

Simple but effective techniques for editing your sequence in time with the music

Practical shortcut keys explained for a faster work-flow (both PC and MAC)

 
Part 3 –

How to

color

grade your footage and match your sequence together
Simple methods

 for 

understanding and 

reading your 

Vector Scopes

 and 

Histogram

s to 

color

 

correct 

White Balance 

and adjust 

colo

r

 temperature

A walk-through of how to use the

 

most powerful 

colo

r

 

grading

 tools in Premiere

 Pro

How to choose the right LUT

s

 for editing your sequence and how to 

quickly 

apply the LUT

s

 to your footage

Bringing

 your footage to 

life by adding 

color

 

depth

, contrast

 

and visual impact 

to your footage

Techniques for matching your shots together to create a consistent look and style throughout your sequence
Part 4 –

Completing the final touches and exporting your sequence for YouTub

e
Advanced 

color

 grading techniques using adjustment layers and motion- tracking masks

Further shortcut keys for adding the final touches to your sequence

Finishing off editing your sequence and completing your short film

How to export your completed 4K short film in the best format for uploading to YouTube
'Terms & Conditions'
By downloading our 'Osmo Pocket Video Editing Course' you hereby agree to be bound by these 'Terms & Conditions'.