Instantly transform your photos with my Free Lightroom Presets
As a fine art landscape photographer I have spent a lot of time learning and improving my post-processing skills in both Lightroom and Photoshop. I really enjoy the editing process as it's the time when I get the chance to bring my photos to life, it's really where all the magic happens.
I've learned to love and enjoy the editing process and I can easily spend 2-3 hours editing just the one photo, and there have been times where I have easily spent 4-5 hours.
If you're a photographer like me you'll know that just capturing an amazing photo is sometimes a huge task which requires a lot of effort, and is quite an accomplishment in itself!
Dragging yourself out of bed in the early hours of the morning to capture that magical sunrise or driving out to a dark location on a freezing cold night to capture the Milky Way. These are just some examples of what we do in the name of photography, because we love it!
Sunrise Seascape at Cathedral Rocks, Kiama.
I figure that if I went to so much effort to take the photo, then It's well worth the effort to spend a good amount of time editing and refining the photo. For me this is very rewarding and I enjoy the process of learning and developing new techniques as much as I enjoy finishing off a photo that I can be proud of.
It doesn't matter if I'm travelling to new places with my camera in hand or at my favorite local photography spot, for me it's as much about the adventure and experience as it is about taking the photo itself!
While some people don't enjoy the editing process, if you really want your photos to shine and look stunning then you simply have to spend the time editing. You have to learn to love it!
But this doesn't have to be a long and painful experience as there are many ways to speed up and simplify the editing process. One of these methods is to use Lightroom presets and this is the method I'm going to talk about.
To be honest, I have never been a big fan of presets mostly because so many people overuse them just to make their photos look like other people's, when really they should be working on learning the editing process and discovering their own style of photography. Copying other people's style doesn't make you stand out from the crowd and you're not going to progress with your photography or learn anything by doing this.
While I have never been a big fan of using presets as I tend to treat each photo differently, I have learned that they can actually be very beneficial if used in the right way. Lightroom presets or any presets for that matter should be used to take your photos to a certain point and in a simple, fast and effective way.
There is nothing wrong with saving time, in fact by saving time with the beginning of your editing process it allows you to spend more time on refining your photo and taking it to the next level. By next level I mean not just improving the overall look of your photo but instead turning your photo into beautiful fine art.
For this reason I have created my own Lightroom presets for you to take advantage of. The 5 basic presets that you will receive include:
Basic High Contrast
Basic Low Contrast
Basic Neutral
Cool low contrast
Warm low contrast
Before & After – Basic Neutral was used as a basis for editing this photo.
Click the button below to grab your 5 free Lightroom presets:
Here are 4 simple steps to applying my presets:
Firstly make sure your exposure and white balance are correct
Apply lens correction and check remove chromatic aberration
Apply any of my presets to your photo
Re-adjust exposure and apply noise-reduction if needed
Again I encourage you to continue to edit and refine your photos further after applying my presets. This will help you improve your editing while learning new techniques.
And if you really enjoy using the 5 free basic presets I have also created two unique sets of premium presets which you can purchase online from our shop for just $9.99 each or purchase both preset packs together for $19.98.
---
Presets Pack 1 – $9.99
Nature Moods Lightroom Presets.
These 15 "Nature Moods" presets are inspired by the various colours and elements found in nature.
Give your photos an artistic, detailed and beautiful moody style with these creative presets.
These presets work especially well with forest, nature and landscape photos but can also be applied to cityscape, architecture, street photography and portraits. Applying these presets will give your photos an artistic, detailed and beautiful moody style.
Edited with Nature Moods presets
*Not currently available to USA and Canada buyers.
---
Presets Pack 2 – $9.99
Architecture & Cityscape Lightroom Presets
"15 creative looks to suit your architecture, cityscape and travel photos."
Quickly transform your travel photos into works of art with these 15 creative looks. A wide range of stylized looks to suit your architecture & cityscape photos, ranging from enhanced colors to artistic, high contrast black & whites.
Edited with Architecture & Cityscape presets
GET THE ARCHITECTURE & CITYSCAPE PRESETS
*Not currently available to USA and Canada buyers.
---
Premium Presets Pack (Combined) – $19.98
The Premium Presets Pack includes:
"Nature Moods Presets" – Give your photos an artistic, detailed and beautiful moody style with these 15 creative looks.
"Architecture & Cityscape Presets" – Quickly transform your travel photos into works of art with these 15 stunning looks.
The "FREE Training Video" where I walk you through editing a photo from start to finish and show you the shortcut to further enhancing your photos, to give them your own personal touch and unique style!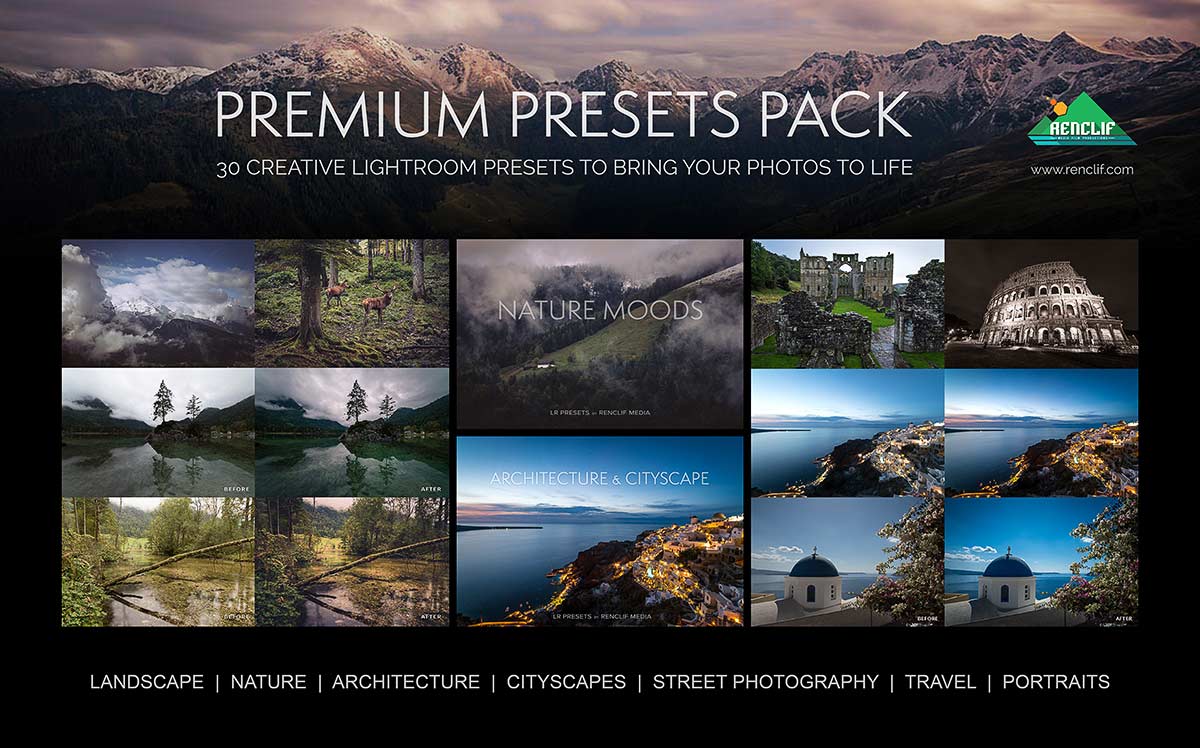 *Not currently available to USA and Canada buyers.
Watch how effective and powerful the Premium Presets are when applied to a variety of photos!